The art of makeup dates back to thousands of years. Age old paintings and other art works clearly suggest that makeup is not a recent phenomenon. Though the standards of beauty keep changing with time and place but it has always captured the imagination of masses in form of fashion and trends. Permanent makeup/ Semi- permanent makeup has been around for quite a few decades now, but it's pretty recent that it caught attention of India's fashionista. 
Introduction to Permanent makeup
Permanent makeup, which is a form of cosmetic tattooing is performed with a procedure called micropigmentation. As the name suggests, the treatments are kind of permanent in nature, so, before one opts for it, one must know enough to take a well informed decision. Ahead we discuss in details about Permanent makeup and how it can set you free or even offer you the restorative treatments that you may require.
Is it really permanent ? Or is it semi permanent!?
It often gets confusing when one hears so many names for  Permanent makeup. Some call it semi-permanent makeup, some simply call it micropigmentation or cosmetic tattoo. Some even have their proprietary names for the procedures. The preference of naming the procedure depends upon various factors like- legal requirements, personal preferences, commercial concerns, local cultural sensitivity etc.
Regarding the permanence of the results of these procedures, there are two ways to look at it:
Firstly, any pigment that is implanted, doesn't fades off completely without an intervention. So client must be made known  of this and hence the nomenclature 'permanent' helps .
Secondly, client must also know that as the pigment fades, they may require a touch-up after some months or years. From this perspective, the results are semi-permanent.
We have to make the client known both these points so that they are well aware about the nature of the treatment and it's results, so that they are able to make an informed decision.
Popular permanent makeup treatments
Eyebrows
Microblading maintains the queenly status among the permanent makeup procedures. Microblading is the most famous permanent makeup procedure, where hair strands are replicated by implanting suitable pigments at a superficial depths in dermis of the skin and creating look alike hair strokes. This replicates the natural hair and offers a kind of 'no makeup- makeup' look. These days the trend is slowly moving over to nano-strokes which offers similar hair stroke patterns with a digital machine and is known to be less traumatic than manual methods. But the opinion of experts differ and it all boils down to individual expertise of the service provider.
trend is slowly moving over to nano-strokes
Other than Microblading, it's the Ombre dusty shading eyebrows that rules the roost. This treatment gives a subtle yet transformative change to the eyebrows and the whole face. The shading can also be made bolder if the client desires. But one must always avoid the temptation to make the inner edges of the brow darker because that's what makes or breaks the results. Keep the inner edges a bit airy and not like a solid block !
Lips
Lip permanent makeup may be performed as a Lip blush treatment or may even be a corrective or color neutralization treatment. In the later, the service provider corrects the bluish/purplish undertones to correct the tone of lips and then adds on it the desirable shade. It's important to know, that one must have realistic expectations and also the shades chosen to go well with the natural skin tones of the clients.
Extraordinary 'pinking' or 'lighten-ing' of lips may stand out like neon colors on stronger skin tones and must be avoided.
Eyeliners
Permanent eyeliners are the slowest to catch up in India. Reason being, firstly, many Indian origin people are blessed with thick and lush lashes already and it's not on the priority list and as well an  inhibition on part of many service providers; it being close to the eyes. The truth is, that in right and experienced hands even a simple permanent lash line can have great outcomes. This is specially helpful for those who do not have a steady hand to apply eyeliner makeup or find it a bit too taxing in daily routine.
Other treatments
Permanent blush, beauty spot and freckle creation with permanent makeup is also one of the slower picking services in this field. The service provider and client both need to discuss in detail about the desired look and correct placement of the permanent makeup as only a rightly placed makeup would enhance the natural features of the client.
Downside of permanent makeup
In wrong hands, permanent makeup can literally turn out to be your worst nightmare coming alive.  This simply means that always choose the service provider after checking their works and as well checking the workplace for hygiene standards. You do not want to end up being cross infected by deadly pathogens during the procedure. Nor do you want to end up in Laser removal clinic to undo the wrongs of amateur service provider. Economic aspects are important but do not risk your face at hands of untrained service providers. Choose wisely. Also, other than going wrong, there are chances that the results may not last as long as expected. This could be both due to internal and external factors including for example immunity, sun exposure, use of certain kind of cosmetics etc.
An ethical and experienced practitioner would always share transparent details about what to expect
Recent advances in permanent makeup
While the trend of permanent makeup has caused a widespread awareness all across the globe, the industry leaders too have taken a lead in developing new techniques, better pigment formulations and advanced devices to ensure suitably lasting and precise results. The pigment formulations are safer and more stable than before and the palate of available shades have widened to cover all skin types and shades. The cartridges and needles have been adapted to offer finest marks for specific treatments like nano-strokes. A lot of professional upgrade of knowledge is available at numerous conferences in the field of permanent makeup.
The growth in the industry has always been client centered.
Precautions before permanent makeup session
Once you have explored the details of treatment you are planning to undergo and have finalized the service provider, it is essential that you take care of the work area before the procedure, as prescribed by the professional. The permanent makeup professional shall ensure during your initial consultation, that s/he goes through your medical and medication history and rules out any contraindications or look out for any special care that may be required four your particular case. Some of the artists also opt for allergy testing. Though the efficacy of the same is controversial.
What to expect during procedure
After the initial consultation is over and your service provider has chosen the kind of treatment that would work best for your skin, they would proceed ahead to complete basic formalities that includes 'Informed consent'. This is the document that any professional service provider offers the client to be signed after duly reading through. This is an essential step because, firstly it discloses all the pros and cons of the treatment clearly. Secondly, it also discloses any potential side effects or possibilities of adverse reactions etc. very clearly. It is very important that client must know even  if there is only, say a 1 percent chance of things going wrong due to the inherent nature of the treatment. Thirdly, an informed consent makes sure that the service provider and the client are on same page about the treatment.
Once the formalities are met with, the service provider may want to take your photographs from different angles. This is essential for record. It's up to you to allow or not allow the service provider to use the images anywhere or not. You have complete right to privacy.
Next, the actual treatment begins and before anything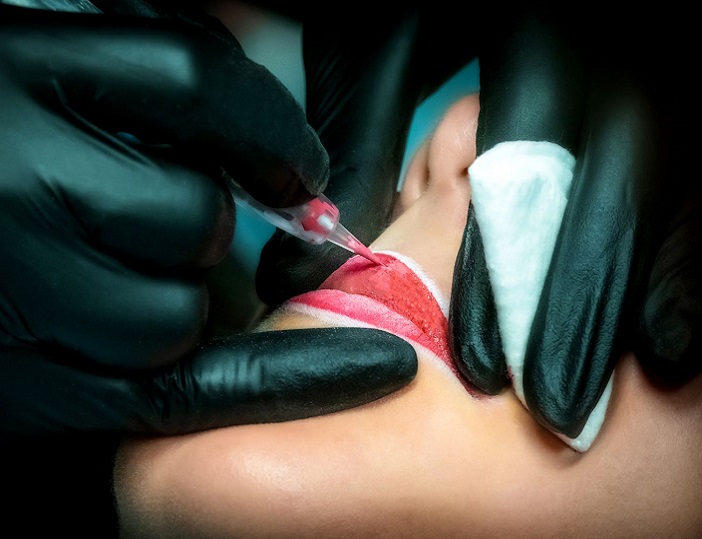 else, the professional works on mapping. Mapping is basically about finalizing the exact design, shape , pattern or the outline of the feature that's to be enhanced with the permanent makeup procedure. Believe it or not, it is one of the most important aesthetic step and client must be patient enough with the professional through this. If mapping is not done well and satisfactory, the chances are that the rest of the treatment would also not be perfect.
Once, the client and professional agree on the mapping, the professional may use a numbing cream (or not) before proceeding to the procedure chair. Numbing cream may be left from 20 to 40 minute depending upon the kind and type used.
This step forms the foundation of the aesthetics of permanent makeup procedures.
This is followed by the conduct of the permanent makeup procedure with the chosen shades of pigments and with proper universal hygiene and safety precautions. The professional may use secondary numbing during the treatment as well to facilitate the comfort for the client. The treatment generally requires more than one session and first session is ideally performed a bit conservatively so as to gain more creative control at subsequent session. The treatment session is wrapped up with an 'after' photo session.
Aftercare for permanent makeup
Once the service provider's job is finished, the client's job starts! Though one is ready to be get going to work or to usual day routine right after the treatment, your service provider would share with you, a list of Does and Don'ts. The after care guidelines differ from procedure to procedure and as well from one clinic to other. Basic Idea is to avoid any contamination and as well any undue irritation or exposure to the worked area. This may include avoiding direct exposure to harsh sunlight, avoiding use of any cosmetics, avoiding steam, sauna, heavy exercises for a couple of days etc.  One must religiously follow these instructions so that the healing process goes perfect and nothing untoward takes place. Aftercare is an important step towards attaining amazing results for your permanent makeup procedure.
Permanent makeup treatments at Dermakraft® | Pune, India
Dermakraft® was founded in 2017 as a dedicated integral micropigmentation and permanent makeup facility with its headquarters in Pune, India and is since then offering focused services in the field of permanent makeup through its dedicated permanent makeup clinics. These services include, among others:
1. Microblading eyebrows
2. Ombre shading eyebrow permanent makeup.
3. Nano stroke eyebrows
4. Permanent eyeliner
5. Lip blush and Lip color correction
7. Beauty Spot, blush
The treatments at Dermakraft® are offered by internationally trained professionals, under clinical grade hygiene and safety standards. It's the experience and aesthetic precision coupled with highly customized treatments that the each and every client who opted for permanent makeup at Dermakraft® has been more than satisfied with the results! At the end of the day, beyond all the razzmatazz and noise, what matters is client's satisfaction and safety and that is what Dermakraft® is always focused at.
Avail a free, no-obligation consultation with our experts to find out what permanent makeup treatment would work best for you. Or, even if you are looking for taking up a detailed study program in the field of permanent makeup, get in touch with us.
©2021, Dermakraft. All rights reserved.
Notice: Any unauthorized publication (non-profit or commercial) of whole or a part of this article in any form shall invite strict action as per the provisions of the relevant laws.